A Day in the Life of a Director
Photo courtesy of Patricia Riggen
​Considering the importance of gender representation behind the camera, we'll be featuring a female filmmaker for this installment of our A Day in the Life series. Patricia Riggen has directed films like The 33 and Miracles from Heaven. She also has some impressive TV credits under her name, such as Tom Clancy's Jack Ryan and Lemonade Mouth. Amongst her upcoming projects, you can find the title Together Now. The feature film will be a compilation of eight shorts directed by a diverse group of female filmmakers. With everything she's working on, Riggen still took time from her busy schedule to give us a window into the world of directing.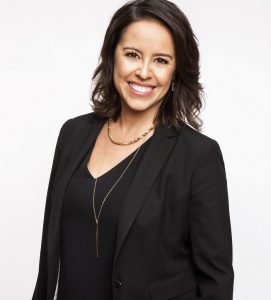 Patricia Riggen, Director
What does an average day look like for you when you're on set? 
The truth is that as directors, we don't have an average day because our lives are in a constant state of change and every job is different. But some general things do stay the same from project to project.
I'll always follow a morning routine that involves taking a shower to wake up, as well as getting some coffee and a protein-filled breakfast. Once my feet hit the set, I'm constantly answering questions, so it's important that I arrive there fully alert and ready to go. Locating my chair is the first thing I'll do after arriving on set. I'll set everything I need around it, which includes my binder.
The latter is incredibly important because it contains the script, and all my notes on everything I plan to do is in there. I tend to use shot lists and floor plans more than storyboards, and both those things can be found in my binder. I'll review my plans for how the day's going to go while the rest of the crew is setting up and the actors are in hair and makeup.
Then comes the moment of rehearsal and blocking. Ideally, I'll already have had time with my actors to rehearse, and we'll just run it again with the DP [director of photography]. But if not, the rehearsal and blocking will be for everyone. Then I let the DP do their thing and the actors finish getting ready. During that brief downtime, I'll review anything I need to for the scene we're about to shoot, as well as for upcoming scenes.
Then filming begins, and the day flies by. It's basically a lot of talking with the DP after each shot and with the actors about what they're doing.
There's never enough time, though. One of the biggest tragedies about being a director is always having to be under the clock. It's a balancing act of making the best movie you can while still finishing it in time with the resources you've been given. You wrap each shooting day feeling both grateful to have accomplished it and completely exhausted because you've been problem-solving from start to finish.
Directors are shifting gears from one moment to the next because we have to constantly make decisions that are both logistical and artistic while filming. So when you finish the day and leave set, you're basically destroyed intellectually, emotionally and physically. And once you get back to wherever you're staying, you still have to prep for the next day either that night or very early the next morning. It's incredibly important to start each day prepared and with a plan, even though it will always end up changing.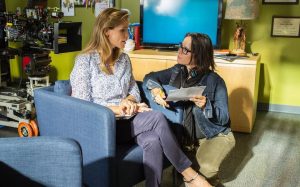 Patricia Riggen on set with Jennifer Garner in 'Miracles from Heaven'
How about days when you're off set? 
Those days involve either pre-production or post-production, so they're not quite as interesting. If you're in post-production, you go and sit with the editor to put everything together. The editing suite is a beautiful place because it's very safe. Since filming is done, you just get to play with the shots you have and make as much magic as you can with them. As for pre-production, the majority of our time is spent scouting locations. We want to find the best ones that aren't far from each other so that we can figure out a schedule that allows us to shoot everything. Pre-production also involves many, many meetings to guide all the departments on what is needed for the shoot.
How can actors best work with their directors? 
I love when actors have done all their work and can bring me an idea for a moment or for a piece of dialogue. I'm always open to actors doing that and want them to bring their thoughts to the table. But there can also be times when an idea they had doesn't work. It might not fit into the overall story or how everything needs to connect together. I was in a rehearsal with Juliette [Binoche] and another actor when we were filming 'The 33', and the other actor was very hesitant to change his idea for the scene when I gave him a note. Juliette turned to him and said, "Trust! Just trust." I thought that it was a beautiful lesson on what's needed in the relationship between the actor and the director. If you don't have trust there, you might as well not make the movie.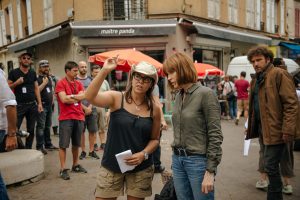 Patricia Riggen on the set of 'Jack Ryan'
Whether you're behind the camera or in front of it, you can keep Riggen's words in mind the next time you're on set. In her interview, the director analogized cast and crew members to soldiers fighting a battle. "It's like going to war [as we] work together to defeat all the diverse circumstances and obstacles that happen every single day," Riggen asserts. The director defines wrapping each shoot day as a triumph that the cast and crew shares. So the next time you're on set, remember that the director will be there alongside you, fighting the good fight of making some movie magic together.
—
This interview has been edited and condensed. Originally published on Casting Networks. Written by Cat Elliott.
Looking for your next directorial gig? Check out the latest film and TV director jobs and apply today!
You may also like: