A Day in the Life of a Boom Operator
Photo Credit: True Touch Lifestyle / Shutterstock
For this installment of A Day in the Life, we're featuring boom operator Whitney Worthen. She's known for her work on theatrical projects such as Cookie, Something to Fight 4 and Dramarama. Worthen has also performed the role of boom operator on commercials for clients like Samsung Galaxy, Google Nest and Country Time Lemonade. The sound department pro virtually sat down with us to share what a day on set looks like for her during our current pandemic times.
How has the work of being a boom operator changed since the effects of COVID-19 hit the industry?
Even before the pandemic, the work would change from set to set. For example, if I'd be on a three-person team, then I'd just work as a boom operator. If it's a two-person team, though, I may also be wiring the talent with their lavalier mics. COVID-19 adds an extra layer to that because you need to wear a face shield on top of your mask when getting that close to the actors. It's impossible to boom-op with a face shield, so you have to figure out those different protocols when going between the different roles you may be performing.
Plus, you're always going to need to adjust to the mixer you're working with, and now you can be dealing with extremes. That is, I've seen some mixers spray alcohol directly onto the equipment and others just set it out at night because they think that kills germs. The job has always involved a lot of adjusting to the set you're on, which is true now more than ever.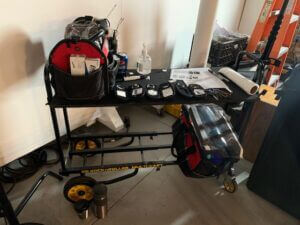 Photo provided by Whitney Worthen
That makes sense! If you could describe an average workday, though, what would it look like?
Well, these days it starts with a "COVID check-in," which is actually nice because now we always know where base camp is. Then, I go check in with the mixer and start prepping the equipment. We'll get out the timecode and camera hops, and prep the lavaliers and boom poles.
One of my jobs early on in the day is trying to hunt down a set of sides. Part of the job of a sound person, in general, is to know the lines and know what's being shot that day. But, they don't want to have any paper on set because of the pandemic, which makes that more difficult. If I don't have a utility person, I'll also need to go wire the talent. And if there are camera rehearsals, I'll obviously watch those and look for any potential problems. One of the greatest pieces of advice I've received as a boom op is to find the best three spots you could stand in for the shot and then watch the first two get taken by a light stand. [Laughs] It's surprisingly true!
So you watch them set up, and then that's pretty much the rest of the day. You sit, you watch and you do. At the end of the day, we collect all the equipment that we sent out, turn it off, change the batteries, put it away and go home.
Wow. I just learned a lot about the role of boom operator that I hadn't previously known. What's one aspect of your work, in particular, that people in another area of the industry might not realize about your job?  
I would guess there are a lot of aspects, but the biggest one is probably that we're a very collaborative department. I think people look at us and think we're so separate from the others because we can function without the camera and don't have a visual component. So the costume department may think we have nothing to do with them, but it would actually be a huge help to see the actors' wardrobe before shooting. We want to make sure there are no sound issues with it, such as jewelry creating a clicking noise that we can't work with.
Another example is how we need help from the lighting department with shadows. Our job relies so much on everyone else, which reinforces the idea that all departments need to work together.
Worthen noted during her interview the importance of going the extra mile in any industry position.
"Maybe it's my Midwestern roots, but I think it says a lot about a person who's willing to go beyond what their everyday job is," she asserted. For Worthen, that means offering to grab coffee or breakfast for the mixer when she's making her own morning run on set. So whether you're a fellow member of the sound department or work in another area of the industry altogether, there is much to be learned from a day in the life of this boom operator.
—
This interview has been edited and condensed. Originally published at Casting Networks in February 2021. Written by Cat Elliott
Looking for your next on-set job in sound? Staff Me Up has all of the latest Sound department jobs for you to check out today.
You may also like: