Tips for Taking the Stress out of On-set Catering
Photo Credit: twinsterphoto / iStock
Your crew is booked. The locations have been secured. Gear rentals are en route. Your shoot day is quickly approaching, but there's still one important question that has to be answered: What will everyone eat?
When I made the leap from freelance production assistant to in-house production coordinator, craft services (also known as "crafty" by us industry folks) became one of my designated tasks. The learning curve, coupled with the scope of productions at that agency, meant that I did a lot of learning on the fly and made my fair share of mistakes.
Two years on, I like to think I have a pretty good system for keeping people fed on-set. With that being said, here are my tips for making catering a little bit easier:
Get to know the crew and/or client
This mostly applies to people working in-house or on long-term projects, but getting to know the people that you'll be feeding is the easiest way to succeed.
When I first started at the aforementioned agency, I sent my team a short Google Form asking if anyone had dietary restrictions or strong preferences. Not only did this ensure that everyone had adequate food options, it also freed me up to do last-minute shopping since I already knew what would and wouldn't work.
I suggest paying close attention to which items end up being popular, and which ones tend to be passed over. Making note of these trends can help you save time and money down the road.
Utilize online/in-app ordering
Whether I'm prepping at home or working on-set, my time is usually split between tasks, so I tend to work off of my phone for the sake of convenience. Because of that, I prefer online options when it comes to ordering things.
For grocery shopping, Target is my go-to; their online and in-app experiences are pretty seamless, and when the order is ready, I simply park up and have it brought out to me. Most grocery stores offer some sort of online option, so do your research and swing for that when it makes sense to.
I also opt for online meal ordering whenever I can. Most restaurants will let you order ahead, and some even team up with third party services like EZ Catering, which I've come to love. Additionally, a lot of places offer online incentives like loyalty points that you can put toward future purchases, so do your research and pick the options that make the most sense for your production.
Go for individual packaging whenever you can
This might be a hot take, but I'm standing ten toes down on it. The pandemic has changed the way we consume food, and the overwhelming move to individually packaged meals is something that's here to stay. They're easy, portable, and usually come with utensils, but they also help eliminate waste, which brings me to my final tip…
Be mindful of food waste
I should start by saying that I was definitely in a different predicament at my last job. Since it was a large agency, getting rid of leftovers was as easy as placing them in the kitchen area. But even with that benefit, I still took measures to make sure that we were being mindful of food waste. If it was a small enough crew, and that meant taking individual orders. But nine times out of 10, I would order assorted individual meals with a few extras just in case. For those situations, I made sure that we always had access to coolers or fridges to keep leftover food fresh, and encouraged crew members to take extras home with them. If that isn't an option, try reaching out to a local food pantry or shelter—they'll be more than happy to receive leftovers in good condition.
Keep in mind that no two productions are the same and each will pose its own challenges, but starting with these tips is a great way to take some of the stress out of an already intense job.
Feel free to reach out to me with any additional tips, and good luck on your next production!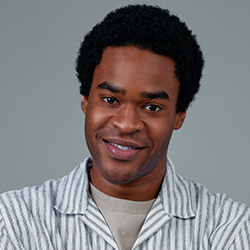 Carter Murphy is a North Carolina-based Production Coordinator with 7+ years of production experience. When he's not staffing shoots and processing invoices, he enjoys reading, listening to music, writing, and watching movies.
Photo provided by Carter Murphy
Ready to get to work behind the scenes? Staff Me Up has more than 8,000 production assistant jobs that you can apply for today.
You may also like: